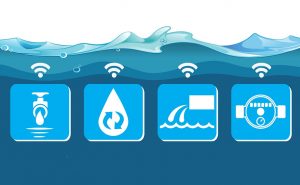 In the last 12 months, the adoption of Internet of Things technologies has gained momentum. The offer has diversified rapidly, technologies have begun to mature and standardize, and, most importantly, more and more "early adopters" report positive returns on investment. The field of Water Management can quickly capitalize on many of the advantages of new IoT technologies and the operators of water treatment and distribution networks that use LoRa and NB-IoT are becoming more and more numerous.
IoT Analytics Company specialized in IoT and M2M solutions, has recently released a Top 10 IoT Segments in 2018 ranking based on 1,600 global deployments.
The "Smart City" category occupies first place, which includes traffic management solutions, Smart Parking, public transport and lighting, waste management systems, and solutions for water companies. In second place is the "Connected Industry" segment, which brings together the IoT solutions used by production units. In this chapter, the most popular applications are the control of non-factory equipment and machinery, production monitoring and control, "remote PLC" systems, and automated quality control solutions.
Places 3, 4 and 5 belong to the "Connected Building" categories (automatic energy-saving systems, access control, and security applications, etc.), "Connected Car" (automotive diagnostic and remote assistance solutions, fleet management, etc.) and Smart Energy (with many applications in the Smart Grid sector).
Utilities are growing the fastest, with Water Management being a direct beneficiary of new IoT technologies
Expanding interest in IoT technologies is also confirmed by most analysis companies which, this year, revised their forecasts on the market evolution. For example, IDC analysts estimate the global IoT market will reach $ 457 billion in 2020, with an annual growth rate of 28.5%. According to the cited source, the verticals that will invest the most in IoT technologies – platforms, systems and services – over the next two years are:
Manufacturing, Transport & Logistics and Utilities, each with $ 40 billion;
B2C (Business-to-Consumer) – $ 25 billion;
The Healthcare Industry – $ 15 billion.
IDC estimates indicate that Utilities will record the fastest growth rate by 2020 (5.7 times compared to 2015 when the investment value was $ 7 billion) on the IoT market.
The evolution of this sector is supported mainly by the adoption of intelligent metering solutions (electricity, gas, and water) and especially of Smart Water Management (SMW) systems. According to the ASDReports ("Smart Water Management Market by Advanced Water Meters"), the SWM market will reach $ 20 billion in 2021, with an annual growth rate of about 19%.
The specific needs of Water Companies
In ranking of factors that motivate Water and Wastewater Companies to adopt IoT technologies, the first places are:
Stricter regulations in this sector;
Increasing operational efficiency;
Introduction of automatic distance measuring systems;
Reducing water losses (up to 40% for Romania);
Improving decision support;
Developing new business models;
Improving customer relationships.
The LOTT SW solution, developed and implemented by Datanet Systems and Soitron, precisely responds to all of these requirements, while offering a number of specific competitive advantages. This solution is part of Datanet's portfolio of IoT products and systems.
First of all, the IoT equipment used by the LOTT SW solution is designed to be installed on a wide range of meters and metering devices, thus enabling operators to capitalize on their return on investments already made and also reduce acquisition costs. The Datanet solution is designed to provide maximum scalability – the standard version can monitor up to 25,000 water meters, flowmeters, pressure gauges, water level, and water meters, etc., but also offers the possibility of expansion to a higher number of equipment.
Data collected by IoT equipment is automatically analyzed by the Datanet solution and the results generated are personalized according to the specific requirements of each water company. LOTT SW provides information about actual water consumption, its evolution over certain periods of time, system losses, IoT device status, etc. and automatically issues alerts and notifications when it detects threshold exceedances of certain parameters (consumption thresholds, water flows, etc.). These functionalities can be developed according to customer needs.
Information provided by the Datanet solution allows water companies, on one hand, to track real-time network losses and any event requiring field intervention and, on the other hand, to streamline preventive maintenance operations, controlling the possible risks. This, overall, ensures a substantial increase in operational efficiency and consistent savings. LOTT SW also contributes to optimizing decision-making processes, enabling operators to take appropriate network modernization measures based on actual field information and development needs.
Water companies are not, however, the only beneficiaries of LOTT SW – also their end customers, consumers, benefit from adopting and using Datanet's solution. Once implemented, end-users can view their consumption data through a dedicated portal within the solution and a mobile application that has already been developed. With these tools, they know real-time actual consumption and can automatically receive notifications when a particular parameter is exceeded (such as, for example, monthly average consumption).
Specific competitive advantages of Datanet's IoT Water Management solution
As we previously mentioned, LOTT SW has a number of specific competitive advantages that differentiate it from other existing solutions on the market. First of all, the IoT equipment developed and produced by Datanet has a low purchase and operating price and is extremely reliable. The terminals do not require maintenance work, they are designed to operate for 5 years without any intervention, and do not require an external power supply nor connection to other data transmission cables. All of these features make installment and configuration a swift process, contributing to reduced implementation time and the fast start of the operation.
Another asset of the Datanet solution is its extensive compatibility, which simplifies integration with the company's operational and billing systems. In addition, LOTT SW provides support for several data transfer technologies (LoRaWAN, Sigfox, and NB-IoT), the solution's development being made according to the operator's specifications. It should also be mentioned that the solution already has the interface and the mobile application developed in Romanian, which facilitates adoption among the local operators.
Datanet delivers the turnkey LOTT SW, ensuring all project phases, from designing and installing the network, manufacturing, delivering, installing, and configuring IoT equipment to implementing and customizing the solution, integrating it with the operator's systems and complete training, service and technical support services.
Last but not least, LOTT SW has the advantage that it's already in use by water and wastewater companies, that use it for remote consumption measurement, leakage detection, loss detection, and identification of fraud attempts. This allows companies interested in adopting the solution to request a pilot test by Datanet specialists.
So if you wish to see an IoT solution already at work and find out what real gains can be achieved, contact us at office@datanets.ro